Welcome to the Graduate School of Electronics Engineering (EE) at Kyungpook National University (KNU).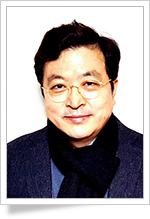 Established in 1971 with seven master's course students, the school has awarded 3,362 MS and 473 Ph.D. degrees until today and currently grants 140 MS and 25 Ph.D. degrees every year. As a major engineering school, we have a current enrollment of 329 master degree students and 111 Ph.D. students in electrical engineering and computer science.
The graduate school of EE has produced an outstanding work force to cater for domestic IT industries and also led academic programs and research development in the field of IT around the world by cultivating high quality research personnel having International competitiveness and leadership.
The mission of the graduate school of EE is to offer graduate degree programs to foster professional engineers and researchers who can create knowledge with global competitiveness. The objectives of the EE program are to prepare students for successful careers in dynamic industry and also as good citizens by inculcating good ethics for the betterment of society and the world.
Our school consists of ten majors, including Circuits and Embedded Systems Engineering, Semiconductors and Display Engineering, Video System and Biomedical Engineering, Electrical Engineering, Radio communication Systems Engineering, Signal Processing, Information and Communication Engineering, Embedded Systems and Control Engineering, Computer Science and Engineering Science, Computer Engineering. The school also offers specialized programs for each major.
We are proud of our world renowned faculty, students, and advanced research facilities. Our program is consistently ranked among the best in Korea. The school receives state funding from Brain Korea (BK) 21 and the World Class University (WCU) projects funded by the Ministry of Education, Science and Technology, Korea. With high quality students, outstanding faculty, and funding from the government, the school is well poised to achieve its mission of excellence in education and research.
I hope you can take the chance to realize your dream as a world-class engineer in the school of EE. If you need any further information, please don't hesitate to contact us. With best wishes,
Tae, Heung-Sik
Professor and Dean